The Voice of the Mothers
Book One: The Feminine Stream of Creation From Mary Magdalene
Book Two: The Great Mother Speaks: Core Teachings From Our Earth Mother
Autographed Paperback
Messages Received through Flo Aeveia Magdalena
Originally Complied and edited by Jayn Adina Stewart
Our book is compiled in two sections. The first brings a view of The Feminine Stream of Creation received throughout 2009 from the Essence of Mary Magdalene. The Great Mother Speaks: Core Teachings from Our Earth Mother comprises the second section, received throughout 2019. These messages are dedicated to the Divine Feminine. Herein are offered ways to receive this Divine essence through the Magdalene streams of consciousness, and then to receive the Grace, which the feminine bestows.

Our planet is a living Divine Mother that creates homeostasis for the organisms that are on her surface, and those that live inside her body. She has taken on this rhythm of the consciousness of Origin, and reflects that back through the Order of nature. To stabilize ourselves we need only connect deeply to the Earth.

It is our birthright to be influenced by and connect with these larger dynamic systems of Order, homeostasis and Creation. We truly want our experience on the Earth to be more creative, alive, healthy, balanced, and connected. As we receive the Essence of this consciousness it texturizes our life, flowing into all relationships, all points of connection, and every part of our body. This energy is never separate – it flows into all.
---
I Remember Union: The Story of Mary Magdalena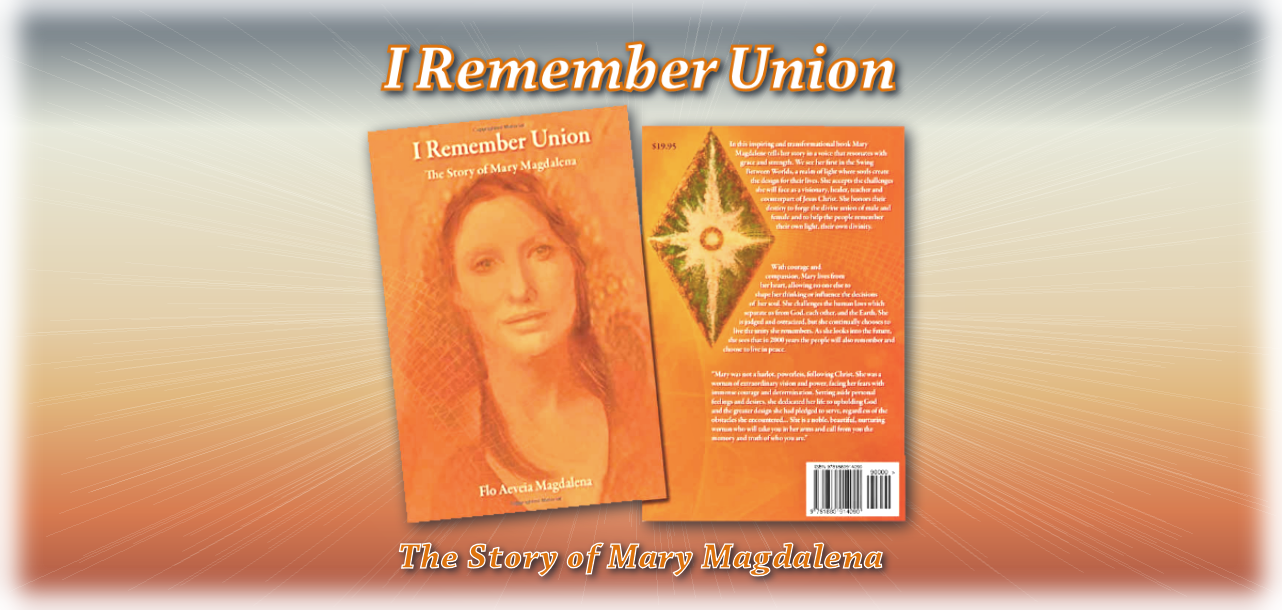 The Story of Mary Magdalena – the profound love story of Christ, Magdalene and Judas, and their legacy of peace for our time!
From the Swing Between Worlds, a realm of light where souls create the design for their lives we see Mary Magdalene accept the challenges she will face as a visionary, healer, teacher and counterpart of Jesus Christ. As she looks into the future, she sees that in 2000 years the people will also remember their own light, their own divinity and choose to live in peace. Now is the time she has seen! Now is the time for Peace.
From the Preface: "Mary was not a harlot, powerless, following Christ. She was a woman of extraordinary vision and power, facing her fears with immense courage and determination. Setting aside personal feelings and desires, she dedicated her life to upholding God and the greater design she had pledged to serve, regardless of the obstacles she encountered….She is a noble, beautiful, nurturing woman who will take you in her arms and call from you the memory and truth of who you are."
Read her story and Remember the Design for Peace in Your Heart!
---
Here is a chapter from I Remember Union called "Peace on My Mountain", excerpt from I Remember Union.
---